Lily Grace's Story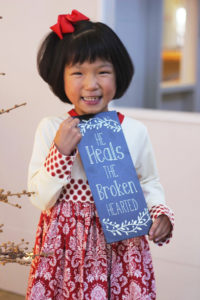 My wife Emily and I have been married for 11 years. We have six children including two biological daughters – Dryden age 11 & Soleil age 9, two daughter's from China – Mackenzie age 7 1/2 & Lily age 7, one son from China – Thaddaeus age 4, and a newborn baby girl  – Annabella. In May of 2013 we also lost our 5th daughter, Addy Hope, at 39 weeks gestation. Sweet Addy was delivered silently after she passed away in utero from a congenital heart defect.
Instead of Congenital Heart Disease (CHD) choosing us, I guess you can say that we chose CHD! Our family's introduction to the world of CHD began in 2011 when our adoption agency matched us with our daughter Mackenzie who had three congenital heart defects…or so her medical file said! As it turned out, there was a mix-up along the way and Mackenzie actually did not have any CHD's because she came home and was completely cleared by our Cardiologist. Mackenzie did end up having an emergency 14-hour ear/brain surgery to remove a mass full of bacteria that had broken all the bones in her inner ear and perforated her skull.
Shortly after we were matched with Mackenzie, my wife saw Lily's face and heard her story. Family after family had Lily's medical file reviewed by cardiologists, and all of them agreed that Lily was "terminal". Lily bounced from agency list to agency list and remained unmatched to a family. Through what we believe to be God working out His plan, we were finally granted permission to bring home two children, and make Lily Grace our daughter as well. Our heart's desire was to bring Lily home and love her for as long as God allowed her very broken 1/2 of a heart that was upside down, backward, and in the right hand side of her chest to beat.
Lily was diagnosed with Hypoplastic Left Heart Syndrome, pulmonary atresia, diminutive pulmonary arteries, mitral atresia, ASD primum, PDA, Levocardia, atrial situs inversus, D ventricular Loop, and right side ascending aorta. Lily had her Norwood and Glenn surgeries done in China. It wasn't until Lily came home, and she had a heart catheterization that we discovered that the surgeon in China put her BT Shunt on the wrong side of her heart. This mistake complicated her Glenn Procedure, and was the reason that Lily was labeled as "terminal". Two months after coming home Lily had her Fontan Procedure. A small percentage of children who have had the Fontan Procedure end up with a life threatening condition called Protein Losing Enteropathy (PLE). PLE caused Lily to have horrific edema to include pleural and pericardial effusions. Lily was essentially drowning to death in her own secretions. Try as they might, Lily's cardiac team was unable to control her PLE symptoms with medication. We were told that the only cure for PLE is a heart transplant. Lily was evaluated for a heart transplant, which is when we received the devastating news that due to her complex anatomy and the fact that she only had one lung attached to her heart, Lily was denied transplant listing by three transplant centers. Shortly after we had conversations with the hospital's hospice team about bringing Lily home to die, her heart failure cardiologist walked into the room and asked us if she could please present Lily one more time to their transplant committee.
Twenty-four hours later Lily was listed as a 1A, top priority, for a new heart. On June 14th, 2014 Lily Grace received the most precious gift that could ever be given – her Hero's heart. Lily's donor was a non-lung donor due to the trauma he suffered in the motor vehicle accident. What this meant for Lily was that she also received her donor's left pulmonary artery. Her surgical team was able to put Lily's new heart in its correct anatomical position in her body even though all of Lily's connections are upside down and backwards from her heterotaxy. Lily's new heart is only attached to her single left lung since her right lung had previously become discontinuous from her heart due to a blood clot, and the risk of Lily being on bypass longer was not an option. Lily Grace is said to be the most complicated pediatric heart transplant to ever be done in the USA. Lily Grace was named the American Heart Association's 2016 "Face of Heart". We had the opportunity to share her story at the Heart Ball at the Mandarin Oriental Hotel in Downtown Washington DC. Here is a brief video they showed at the ball:
---
Thaddeus' Story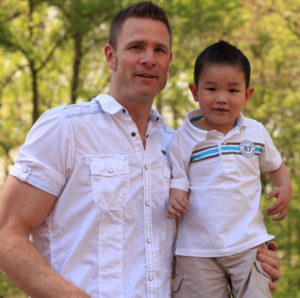 In 2014, we returned to China to adopt our first son Thaddaeus. Thadd has a complex single ventricle heart, and according to his surgeon a "very unfortunate combination of CHD's". He has a variant of Hypoplastic Right Heart Syndrome: Double Outlet Right Ventricle, transposition of the great arteries, pulmonary atresia, diminutive pulmonary arteries, absence of a pulmonary valve, complete AV canal, two superior vena cavas, and a few other garden variety CHD's. Thaddaeus underwent his first open heart surgery in May of 2015, which was the central placement of a shunt due to his complex network of collateral vessels. Although Thadd's pulmonary arteries DOUBLED in size since his Norwood, we have been told that he is not a candidate for the Glenn Procedure until his PA's double again. Although we are told that is a physical impossibility, we have seen God work so much – we choose HOPE!
The decision to bring Lily and Thaddaeus into our lives has had a dramatic affect on our family. The lengthy hospital stays, the constant medical bills, and schedule demands are just a part of the struggle. The emotional weight of living through moments when the life of your precious child is hanging in the balance is something no parent can prepare themselves for. Lily has a new heart. She is doing great – for now. Every new heart has a shelf life. Is it 3 years? 5 Years? Could she defy odds and get 10 years out of this heart? Who knows? Her battle will be life long. And Thaddaeus is a different story altogether. He is dying – slowly. Unless something drastic changes suddenly – he probably has no more than a handful of years left.
And the temptation for families in the middle of these challenges is to grow depressed and live in constant sadness and worry. We have chosen a different way. We believe in a BIG God. We believe in a God who has the ability to heal and restore and save even the most desperately ill child. Does God always grant the request to heal when we pray fervently day in and day out? No he doesn't. But what I have learned to pray when facing these situations, is not only for God to heal. I do pray continuously for that. But I also pray, whatever happens God, don't let this trial be wasted. Make a difference. Make a difference through Thadd. Make a difference through Lily. Make a difference through our family. Make a difference through me. And somehow God, if my child dies and moves from this life to the next, it will crush me. But I can live and move forward as long as his life and death will lead more people to finding the hope they can have in you.
That's why I am so excited about being co-founder of wholehearted. I believe in the mission. I believe in the message. I desperately want to use our story and our experiences to help other through their challenges and struggles. I know things can get overwhelming in a hurry when facing medical challenges with our children we love so much. The medical bills can decimate us financially. The schedule demands can stress us to the max. The emotional toll it takes can leave us depressed and broken. But with the hope in God in Christ Jesus, and with people who care deeply for us supporting us, we can overcome. The love of God and the support of people in our lives is the reason I can tell this story today!!!!