Caleb's Story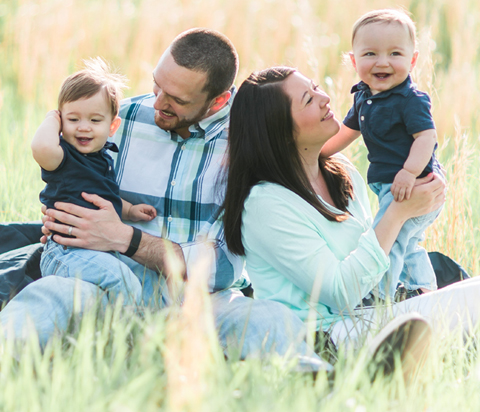 Caleb's story all starts at some point late in 2012, when my wife Kristen and I were attending a Bible study at our church on the book of Numbers and the story of courageous Caleb. As a newly married couple, we were not quite ready to have children but we did often talk about names for children that each of us liked. The funny thing about it is that Kristen and I could never agree on a name that we both liked. That is until this study. As our pastor was reading through Numbers chapter 14 and we began to study the life and faith of Caleb, I recall thinking to myself, what an incredible man of faith and what a great name. It was almost as if God whispered to my heart, "Caleb should be the name of your first born son". Not 5 seconds later, Kristen whispered over to me while the pastor was still speaking. She said, "I like the name Caleb for a boy." From that point on, it was pretty much set; if God should bless us with a boy, he would be named Caleb.
In June of 2013, we found out that we were expecting-and not just one baby-twins! A short time after (16 weeks of pregnancy), it was time to discover the gender of the twins. To my excitement, there were 2 boys! "Twin A" was in lower position and would be the first-born (Caleb) and "Twin B" (Jonah), would be the slightly younger brother. As the doctor continued to examine the babies, he locked in on Caleb's heart and after a very long silence and endless pictures, he told us that Caleb had a very rare and serious form of Congenital Heart Disease called "Hypoplastic Left Heart Syndrome". Essentially, Caleb only had 1/2 a heart. We were told that he could not be born at a "normal" hospital, but thankfully because of medical advancements and open-heart surgical techniques, we did have some options and reason for optimism. As shocked as we were to find this out, we clung to the hope that God had given us by helping us name our first son. We immediately thought back to Caleb in the Bible from Numbers 14. He was a warrior, a man of faith, and defied all odds being only one of two people allowed to enter the Promised Land because it was said that Caleb had a "different spirit" and that he followed God "wholeheartedly". What we didn't realize until the time of his diagnosis, was that in Hebrew, the name Caleb means "Whole-Hearted", which is quite amazing when you have just been told your son only has 1/2 a heart. We knew God was in this and was at work, despite the challenges that may be ahead.
Outside the womb, Caleb's journey has been anything but predictable. His life has been filled with battles and adventurous highs and lows just like his namesake. After his first Norwood surgery, Caleb's chest couldn't be closed for 10 days due to the unique way his heart sits in his chest and the swelling that occurred from surgery. He had an emergency heart catheterization surgery shortly afterwards and had to be placed on ECMO (life support) for 5 days. While on life support, he had several strokes and a least several hundred seizures. His foot was completely purple and there was talk of it needing to potentially be amputated. Both miraculously and medically (through excellent surgeons, doctors, and nurses), God carried Caleb through these monumental battles including 2 other open heart surgeries (Glenn and Fontan), a diaphragm plication, stomach surgery (Nissen/G-Tube), and multiple other heart catheterization.
Although we have always asked God (and continue to ask Him) to completely heal Caleb, we always follow the example of Jesus in the Garden of Gethsemane before his crucifixion where He prays, "not my will, but yours be done" (Luke 22:42). We know and serve a God that can heal miraculously (as he has with Caleb's foot) but we also know He can also take pain and suffering and use if for a much greater purpose (as He did with Jesus' death on the cross and His resurrection-to save us from our sins and give us the hope of heaven). Wholehearted Foundation would not exist today if God had answered our initial requests for healing Caleb completely the way we wanted. It was because of all that we saw in the hospital-the pain, the suffering of families going through adversity, the challenges with medical bills and insurance, juggling other family and work obligations, seeing the importance of prayer and faith in Christ. It was our long, challenging experience that God allowed with Caleb that compelled us to team up with the Rancourt family to start Wholehearted Foundation. We believe that God loves each family and each child battling Congenital Heart Disease and our aim is to be and extension of this love by bringing hope through our various areas of service (prayer, financial assistance, relationship/connection, program awareness). It would be an honor for us at Wholehearted Foundation to help you in any way!
Hypoplastic Left Heart Syndrome (HLHS)- Caleb's Story of Hope

The Koppel Family was recently featured in Northern Virginia Magazine. To read the article, please click here.